Posts tagged startup
Hi, i'm a 20 year old living in michigan and have always wanted to open a concert venue. I'm currently going to school to become a physicians assistant soooo as you can tell i have no clue how to go about opening a venue like that. I've been reasearching investment groups but i have NO clue where to start? any ideas?
itsnewman
Hi itsnewman,
Thanks for writing, it's always a pleasure to hear from D2D readers!  A concert venue is a good choice for Michigan with the Detroit and Grand Rapids areas, among others, being very dense hubs for visual and musical artists alike.  Plenty of hot spots to choose from.
Well, I think right now the first decision you'll want to make is not where to look for investors, but what career path you ultimately want to take.  Do you still have interest in becoming a PA?  Do you have another unrelated job in the meantime?  Will there be lost grants, or looming student loans that will be piled on if you take a semester hiatus to get a feel for the music biz?  Can you see yourself happily running a concert venue 10 or 20 years from now?  These are questions that may be tough, but need to be answered, as this in itself may be a turning point in your life.  Think long and hard about this decision before moving forward.
Now, assuming you're a little further down the road and you've made that tough decision, you'll need to learn the business inside and out before you begin seeking investors.  Never underestimate the intuition of investors, remember that these guys hear pitches all the time and they'll be able to sense immediately whether or not you're fluent in your field.  I'm assuming with your passion for music you attend concerts yourself.  Make it a point to befriend the folks that make these concerts happen, get a feel for the process.  Hit up local cafes with free open mic night, talk with the performers and listen to their stories, you never know what wisdom and encouragement you may glean from them.  Heck, if you're having trouble making connections with people, target smaller venues and offer to do a blog entry or interview with the owners.  Take them out to lunch if you have to, a smart businessman is unlikely to turn down a free lunch and good press.  If there's one thing I've ultimately learned in the business world, it's that you'd be amazed what you can accomplish by just asking.  As Dale Carnegie would affirm, people love to talk about themselves, so sometimes just asking the right questions and being a good listener can be incredibly beneficial.  Don't expect immediate results, but persistence will eventually pay off big time.  Also, as I mentioned earlier, one thing you'll want to scout as early as possible is location.  You'll want to have a clear vision of what type of crowd you'd be attracting, (realistic) capacity, and if it makes logical sense for the musical niche you'll be filling.  Study the number of concerts and calibre of bands playing in a given area, and keep in mind that relocating may be in the cards.  
In any case, get back in touch with me once once you've taken a few steps on this, and we'll determine the possibilities from there.  I wish you the best no matter what you decide to do.  
Warmest regards,
Ben Lopez
---
Photo credit: Jonathan Lopez
by Ben Lopez
This past Sunday I was visiting my family and having a wonderful little afternoon spending time with them. That is until a tornado hit in the back yard, and the neighbour's roof narrowly avoided destroying the side of the house as it blew off. Something tells me it's not going to be a good week…

You may have noticed I haven't been around much lately. It wasn't something I wanted to do, but I'm wading through some difficulties right now, the cleanup after the tornado the least of my troubles, and I need to square a few things away before getting back to business as usual.
Sometimes you don't just get hit hard, but with many things at once, and it's not easy to maintain your everyday routine. It turns your life upside-down. My lease was suddenly compromised recently due to circumstances beyond my control, and I've been forced to spend a good amount of time seeking property as the clock ticks down. I have resigned from both my Google News syndicated writing position that has since plateaued, as well as stepping down from my marketing director spot when I saw disaster on the horizon and took an early exit. And after taking a moment to check the status of my former company yesterday I'm glad I did, as they seem to be at a complete standstill.
I postponed my own startup to pursue these positions that I foresaw getting me ahead, but I'm now behind the curve. Hey, that's why they're called risks, because there's a definite possibility you could lose, and in this case, I lost. But like Jason Calancanis frequently alludes to, crying about it will do nothing for you, it's time to move on.
Kind of puts me back at square one, doesn't it? In the weeks to come I will have to make a firm decision on how to proceed, and what projects to pursue next. I could feel sorry for myself, or I can look at the positive learning experience this was and give myself a pat on the back for taking the initiative to resign while there was, to the untrained eye, still potential on the surface. Sometimes you just need to cut your losses and move on when your gut tells you to. Maybe you're in what you consider a good position, but you see trouble down the road; just remember that objects are closer than they appear.
But it may be for the best, there are plenty of new opportunities, and I have a whole list of Plan Bs. Think about how many hours are in the day, and the sheer mass of what can be accomplished if you're truly dedicated and uncompromising in your work focus. Whatever lies ahead, one thing is for sure: From Dimes To Dollars is here to stay.
What difficulties have the D2D readers seen coming their way? Share what you've learned from overcoming them: you never know who may find encouragement in your words.
---
I hate to be so disappointing with a lack of content this past week, I've just been incredibly busy trying to get my new project off the ground while still juggling my day-to-day tasks.  I elaborate a little on what's been going on with my personal projects here if anyone has any interest (unlikely, but possible, I suppose).
This week's highlights:
I shared some encouraging and insightful quotes from Steve Jobs and Tim O'Reily.  They lend a bit of advice for startups, and provide valuable wisdom on how to treat your peers.
 Google made a huge announcement this past week as they unveiled Google TV to the world.  I made it clear that in my opinion GTV will soon change the entire market, which I believe will lead to, at long last, custom channel packages.  I had some good discussion with other bloggers on this, and even had a brief interaction with Gary Vaynerchuk, who agreed on the custom channel packages.
 Twitter dominated the #1 spot in the iPhone App Store this past week.  It was dethroned after several days by a Farmville clone…which is pretty sad when you think of the implications on our society's priorities.
 This week's humour comes in the form of a very unique Twitter service, which I've sarcastically deemed "The most useful Twitter service in the history of mankind".  No spoilers on what it is (little clue in the thumbnail), you'll have to read the full entry and judge for yourself how useful it is.;)
Typically I put a small mention down here to recommend this blog if you find it useful.  However, I'm not going to do that this week because I don't think I delivered the past 7 days.  In any case, I'd like to thank you all for continuing to read From Dimes To Dollars, I read every one of your comments and e-mails.
TOMORROW:  I get opinionated in a big way, and publish an open letter to Tumblr users.  I won't say what it's regarding, but let's just say not everyone is going to be happy about it.  Get your trigger finger ready to send that hate mail!
---
So I was thinking over this whole Tumblr Tuesday thing this week, and decided to make a change.  I looked at how everyone else was approaching Tuesdays here on Tumblr, and the basic gist I got was that essentially Tuesday is the day that it is socially acceptable to outright ask for recommendations.  So if I'm browsing for new blogs to follow on a Tuesday, I'm going to stumble across quite a few "recommend me, pls!!" blog entries.  Before long, I imagine they're all going to start sounding the same, and generally speaking, you're not contributing anything with that kind of blog entry.
That's when I decided I'd do a weekly recap to share something useful on Tumblr Tuesday.  Will I still ask for recommendations at some point in the blog entry?  Sure.  What I won't do is beat people over the head with the notion that they simply must recommend this blog.  
This week's highlights:
Dimes2Dollars took a poll asking the question "Do you consider running an internet business 'professional'?"  I did an update partway through the week and gathered responses from a few other sources as well.  There was a high level of participation, thanks everyone!  The results and a personal response will be posted this week.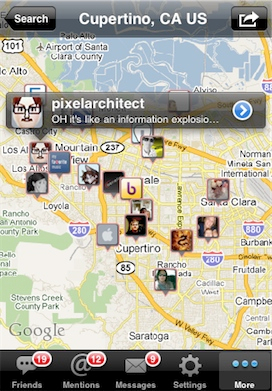 A detailed review of Twittelator was published.  Twittelator is a 3rd-party Twitter app for iPhone.  I found it to be leaps and bounds better than the competition!  Streamlining frequently used functions, as well as a mind-boggling range of advanced features made it one I recommended heartily.
 Less than an hour after the news broke, I decided to do a little late-night reporting on Hugo Chavez and his highly unexpected decision regarding Twitter!
Easily my favourite entry for the week, we revisit a story that The Wall Street Journal published last year on an unlikely career switch.  A Wall Street businesswoman leaves a high-paying job to become a cyclist.  Talk about pursuing your passion!
Finally, just a few hours ago I was scouring and came across a great find by David Chouinard.  I added some commentary of my own and ReBlogged his entry, Customer Service Is Not A Department.
Please consider a recommendation if you found any of the above to be Inspiring, or otherwise useful to an Entrepreneur or Startup.
What do you think of this new Tumblr Tuesday approach?  Would you like to see the weekly reports tweaked differently?  Let me know in the comments below, or submit a reply!  
---